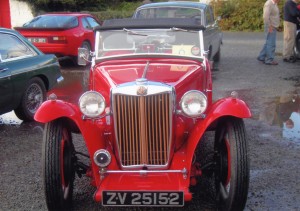 Vintage cars, its an interesting hobby, it brings people of all ages and from all walks of life together. For some people the idea of having an old car and going to a run or show at the weekend is a way of meeting people and passing the time. For others, they may have lusted after a certain make of car when they were new but could never get one and now they can fulfill their dream of having such a car and then there is people like me who never knew any thing different.
From an early age I was being taken to vintage events by my parents, in 1976 my parents John and Joan Mitchell took me, aged 4 and my brother alan aged 6 weeks in their newly restored Armstrong siddeley to our first vintage rally. And so it all started there, in the first few years we went to rallies all over the country as there was only a few clubs around and nothing in kerry until 1979 when the kingdom vintage and veteran car club was formed.
I do remember those early days of the club when we would take part in the Rose of Tralee Festival Parade and then we would go to Banna beach and camp out for the night.
When the Ring of Kerry Run started we would meet up at the airport in Farranfore before heading off on the day long trip around the Ring.
Through the years we stayed at different hotels on the Ring such as the Butler Arms Hotel in Waterville where Charlie Chaplin stayed. Then there was the newly built Waterville Beach Hotel complete with a swimming pool, something an 8 year old like me had never seen before except on tv. I saw the same hotel some years ago and was very dissapointed to see it derelict and ready to be demolished, later on we then stayed in the Derrynane Hotel which was a regular stopping point for many years.
As im writing this there are lots more memories being awakened in my mind of those early years of vintage rallying so it's no surprise that vintage cars are such a major part of my life now.
I still enjoy going to vintage runs and shows even though a lot has changed since those early days of the club. It still can be a family day or even a weekend out. I'm glad to say my new family are enjoying our old cars as much as I did all those years ago, hopefully there are many more years to come.